★Back Magic Stretcher with Magnetic Therapy Points★Posture Corrector★Arc Lumbar Spine Acupuncture Massager★Support Seat Cushion★Pain Relief Relax Fitness★
---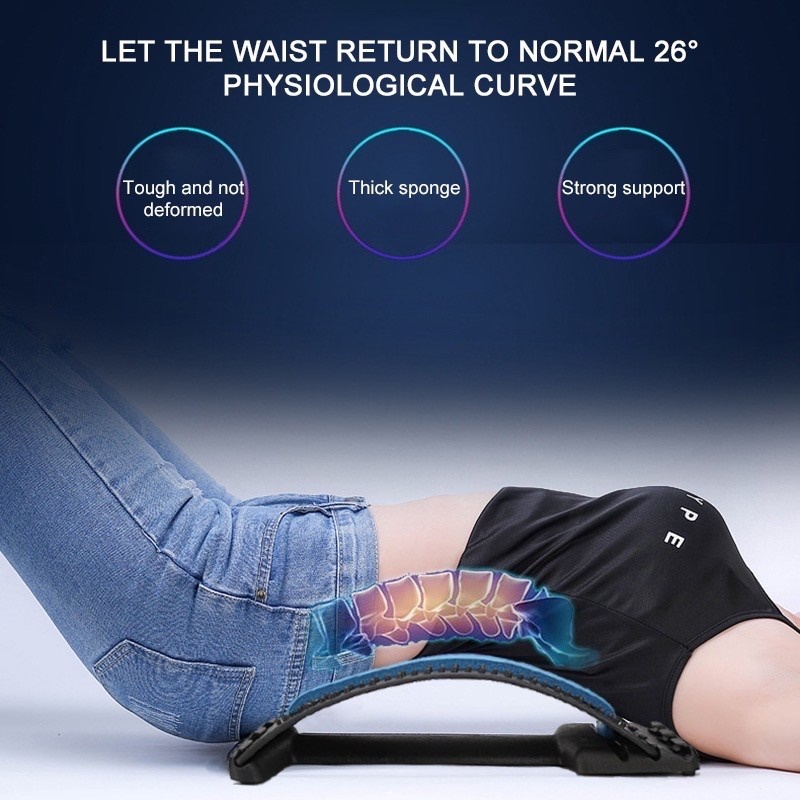 Description

[WHAT'S BACKMAGIC]--The BackMagic is designed to make stretching your back easy, safe, affordable and enjoyable. The BackMagic has won the support of health professionals, back problem sufferers and people with strong, healthy backs. It is being used to help relieve chronic back pain, correct postural imbalance, restore the natural curvature of the back and improve flexibility in shoulder and back muscles.
[STURDY AND DUARABLE MATERIAL]--The lower back stretcher uses environmental ABS and NBR material to give you harmless and safe using experience while sturdily supports your back. And there is a sponge pad in this backright lumbar relief back stretcher,make you feel more comfortable when you are doing the lumbar training.
[BACK STRETCHER FOR PAIN RELIEF]--It is highly recommended for the lowest setting or back issues solve which is effective and simplistic way to reduce back pain.Lumbar Back Stretcher Massager with Acupressure grants your back with the relaxation and relieve those aching muscles.
[MULTIFUCTION AND EASY TO USE]--Lumbar support pad,Back pain relief,Posture corrector,Back massager,Spinal Traction,Back support for office chair,Acupuncture Massager.5 minutes twice a day of using this back stretcher help relieve tension.Effective in treating pain from muscle spasms,pinched nerves,herniated discs,sciatica,degeneration,tight knots,excessive flexion and more!The back stretcher and lumbar support is uniquely designed to help correct and improve posture.
[BEST GIFT FOR FAMILY AND FRIENDS]--The lumbar alignment stretcher can be used whenever you are lying or sitting. The back alignment device can be placed on a chair to help correct your sitting posture, or car seat to serve as a lumbar support for car that helps reduce the tiredness especially for long time road drive.So it's thoughtful that you present this back stretcher to your kids,parents,friends and the elderly on the coming Thanksgiving and Christmas.
Package

1 x Back Stretcher with Magnetic Therapy Points

---
Share this Product
---
More from this collection